Interfaith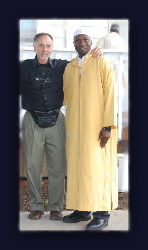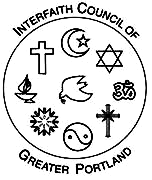 In Portland, Rabbi Aryeh recognized an essential part of his life's work: promoting and participating in interfaith dialogue and action. He served as co-chair of the Interfaith Council of Greater Portland, whose Mission Statement reads:
We, the Interfaith Council of Greater Portland, are impelled by the Ground of all Being to restore wholeness to the one human family and all of creation. The council is organized for the affirmation, education, and mutual protection of religion and religious freedom.
---
We invite your ongoing participation in interfaith dialogue and action, that Reb Aryeh's clear voice may continue to be heard. Please see the following websites for information and events in the Portland/Metro area: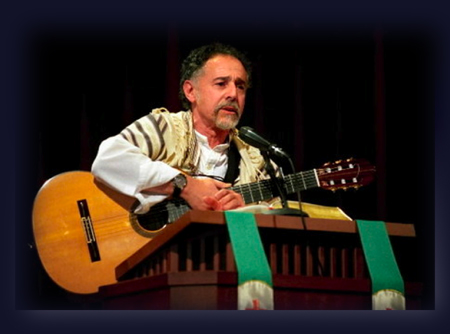 Rabbi Aryeh zt"l was honored by Ecumenical Ministries of Oregon on October 13, 2009.
"Whether you were Christian or Buddhist or Hindu, whatever your background, Aryeh was always ready to engage in a conversation" said Ecumenical Ministries of Oregon's Executive Director, David Leslie.
Gilzar Ahmed, co-chair of the Interfaith Council of Greater Portland, recalls, "Rabbi Aryeh used to say that the interfaith work is not to convince each other about our own faith but to know each other as a human being. There is no evangelizing in our interfaith interaction but to share our humanity, our dreams, our fears, and our hopes. That indeed is very powerful."

The biggest tribute we can give to Rabbi Aryeh is to work on his vision, on interfaith work, on promoting peace at grass roots level by promoting understanding between people of different faiths in our local communities. If we do that we will see Aryeh among us, his smiling face ever present as we look at each other."
Imam Mamadou Toure of Beaverton's Bilal Mosque, called Reb Aryeh, ". . . the loudest voice for interfaith work and peace between religions." He considered Reb Aryeh a "close and intimate friend."
Rev. Charles Busch, founder of Peace Village, said, "I described to Rabbi Aryeh a program being created by Peace Village: the forming of a network of congregations, of diverse faiths, committed to the ongoing teaching of nonviolence. 'I am with you,' Rabbi Aryeh told me."
Pasted to the front of Aryeh's personal prayer book:

"The righteous ones of all nations have a share in the World to Come. I call heaven and earth to witness that the Divine Spirit rests upon each person, Jew or Gentile, man or woman, master or slave, in consonance with one's deeds."
(The Talmud)
Yom Kippur eve (5769 – October 2008) our congregation witnessed Reb Aryeh make a profound vow of peace. This vow is from the Shomer Shalom Institute for Jewish Nonviolence, founded by Rabbi Lynn Gottleib. While listening to "Let the Healing Begin", recorded by Reb Aryeh during his tour of Germany in 1992, I was struck by how Reb Aryeh never rested on his laurels. He sang for peace in Germany, he made deep spiritual friendships and participated in interfaith work with Muslim Imams, Christian ministers and Buddhist teachers, he sat in sweat lodges and attended sundances, he dialogued with Palestinians, he visited those in prison, he did a lot I'll never know about… And he stood in front of us this past Kol Nidre night and told us how much soul searching he did before he could take this vow of peace.
Chellema Qolus, P'nai Or member